Presurgery
Shower night before surgery with Hibclens (should have received from our nurse practitioner).
Signed consent and given preop and postop instructions.
Fill prescriptions for postop medications (pain, nausea, stool softener, muscle relaxant).
Good night rest, nothing by mouth after midnight, unless otherwise instructed.
Make sure you have been assigned a time to arrive at the surgery center.
What To Expect
Swelling and bruising of breasts is normal and will gradually resolve over 2 – 4 weeks
If you develop any redness, drainage, or intense pain, nausea, vomiting, difficulty breathing, please contact us immediately
Implants may initially appear too high, but over time they will settle
Postsurgery
WALK, GET OUT OF YOUR BED EARLY AND OFTEN (WITH ASSISTANCE) TO HELP PREVENT POSTOP PROBLEMS
OK to shower 24 hours after surgery, wet incisions, do not scrub until instructed; blot all incisions dry; DO NOT BATHE, SUBMERGE CHEST WATER UNTIL CLEARED BY DR. JONES.

Eating after surgery
Start with clear liquids, as you may experience discomfort from anesthesia

Advance slowly to a soft diet for first 3 days; Avoid spicy foods and sugar-free candy ( liquids > Jello > crackers > soup)
Take pain medication as instructed
NO SMOKING, smoking may cause wound healing problems
DO NOT perform any strenuous activity or lifting for at least 3 weeks (including sex)
1st 2-3 days, limit arm movements and do not use arms to lift objects
Resume driving when narcotics have been discontinued and turning the steering wheel can be done without pain
Incisions

Avoid direct exposure to the sun as UV light can cause hyperpigmentation of scar
Start scar therapy to promote healing and use sunscreen as directed.
Breast Exercises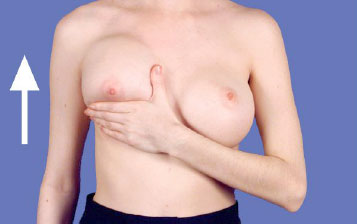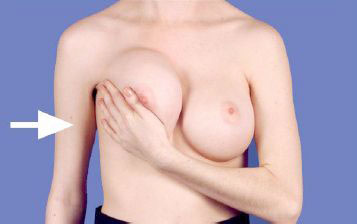 Massage breast up and medially and hold for a few seconds then release; (Perform exercise 3-4 times daily (10 repetitions).
Remember, it is vital that you make your initial post-op appointments and be seen by Dr. Jones. He will see you at least once in the first two weeks, then at one month, 6 months and 1 year.
IF YOU HAVE ANY CONCERNS OR PROBLEMS, PLEASE CALL US IMMEDIATELY. IF IT IS URGENT OR AN EMERGENCY DIAL 911 OR REPORT TO YOUR NEAREST EMERGENCY ROOM.
If you are not sure, please contact us and schedule an appointment to be seen. There is no such thing as a bad question or concern. We want to make sure you receive the appropriate care; the worst decision is to wait!